Toes slept really well last night.
DadtoToes went in to check on her this AM at 5:45 and found her sitting up in her crib, facing the wall, with the bandage slipped over her eyes. Yikes! The poor sweetie couldn't hear OR see! She hadn't made a peep.
As soon as he scooped her up and moved the bandage, she flashed him one of her token grins.
Other than a soaked through diaper, a biproduct of the IV fluids she had yesterday, her night was uneventful.
This morning she was ready to have a big breakfast and then get down to some serious play time.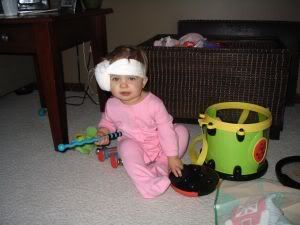 She isn't quite her old self just yet, but she is pretty close.
This morning I remembered a funny moment from yesterday that I forgot to share in my update.
As we were leaving the hospital, a man in the elevator looked at Erin and all her bandages and asked her "So, how are you doing, Sweetie?" She shrugged her shoulders, with her palms in the air as if to say "How do you THINK I am doing?"
We all got a good laugh. He told her she had made his day. It was then we noticed he had a badge on that said "Pastor".
That's our Toes. Even when she is having a bad day, she can still bring a chuckle.