Toes on Saturday, September 2.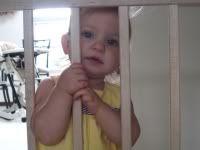 DadtoToes and I have been getting ready for Erin's surgery. We are nervous and excited and overall overwhelmed.
We can't wait for Erin to hear... yet we are still so apprehensive. We know this is the right thing to do, but it is still not so easy
. The 25th will be a very long day for us.

We will feel better once the surgery is over. 20 more days. Yikes!
Erin had her second therapy appointment with her new therapist today and it is going so well. :) More than anything at this point, we are trying to get used to the therapist and the therapy concept so that she will be ready to roll when her CI is activated.
Today the therapist said she doesn't think Erin is getting much help from the aids in regard to developing language. That didn't surprise me too much. But she is still learning to communicate so well!
She has been signing "Daddy" all the time lately. Today she even signed "daddy" and pointed at another child's daddy at daycare. The teacher pointed at her little friend and said "That is Zuri's Daddy" and Erin seemed to know exactly what she was saying to her.
:)
She still isn't really signing "Mommy", but definitely knows what it means. I can't wait for the words to replace the signs. It will be an amazing and beautiful day when she says "Daddy" for the first time.
I have been making contact with several mothers of CI infants through the internet and I have been learning so much from them. This technology is so amazing! Erin was born at exactly the right time.