Erin loves to hit the button on her Fridge Farm set to listen to Tad play his banjo. (Those of you out there with toddlers probably recite "Hi, I'm farmer Tad..." in your sleep) ;)
When she hits it, we start dancing which, of course, makes her giggle and dance along. We weren't sure if she was truly hearing the music or just imitating our movements.
Yesterday, while playing, she suddenly ran into the kitchen, hit the Tad button, then came back out dancing! We are pretty sure she was making the chicken dance movements.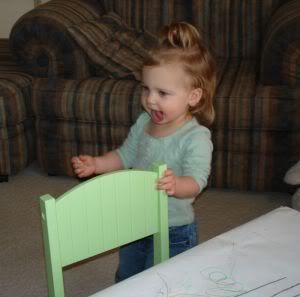 We never expected her to pick up the concept of music so quickly. She is our little Rock Star!